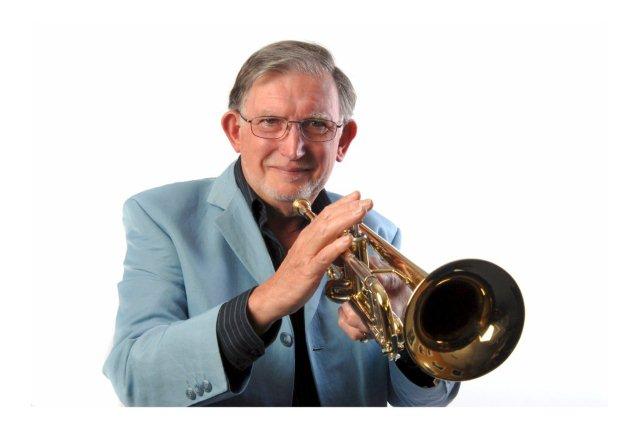 Hello from me, John Shillito, and welcome to the website!
If you like the older "traditional" styles of jazz and want to find somewhere to hear the music live, or if you are looking to book professional, competent and entertaining musicians to play for you at a function of any size, then you've landed in the right place!
I was bitten by the "Jazzbug" in my early teens and inspired to take up the trumpet so that I could enjoy the thrill of playing the music as well as just listening to it. That was well over 65 years ago, now, and - the great thing is - I'm still getting the same thrill today - with the same kind of youthful energy and enthusiasm as I did then, although I guess you might call me a "veteran" now. I made my debut as a band leader in 1954 and I'm not stopping yet!
Please come along and hear us for yourself - or, if you want to hire a band, call me, or drop me a line to discuss your musical requirements. Pubs, clubs, dances, parties, shows, concerts, fairs, festivals, promotions, corporate functions, birthdays, weddings, anniversaries, funerals - you name it, we've done it - and we do it in style!
We are the
John Shillito Band
an entertaining, exciting six or seven piece band that plays contemporary traditional New Orleans style jazz and swing to add Creole spice and a "downtown" flavour to any occasion; and the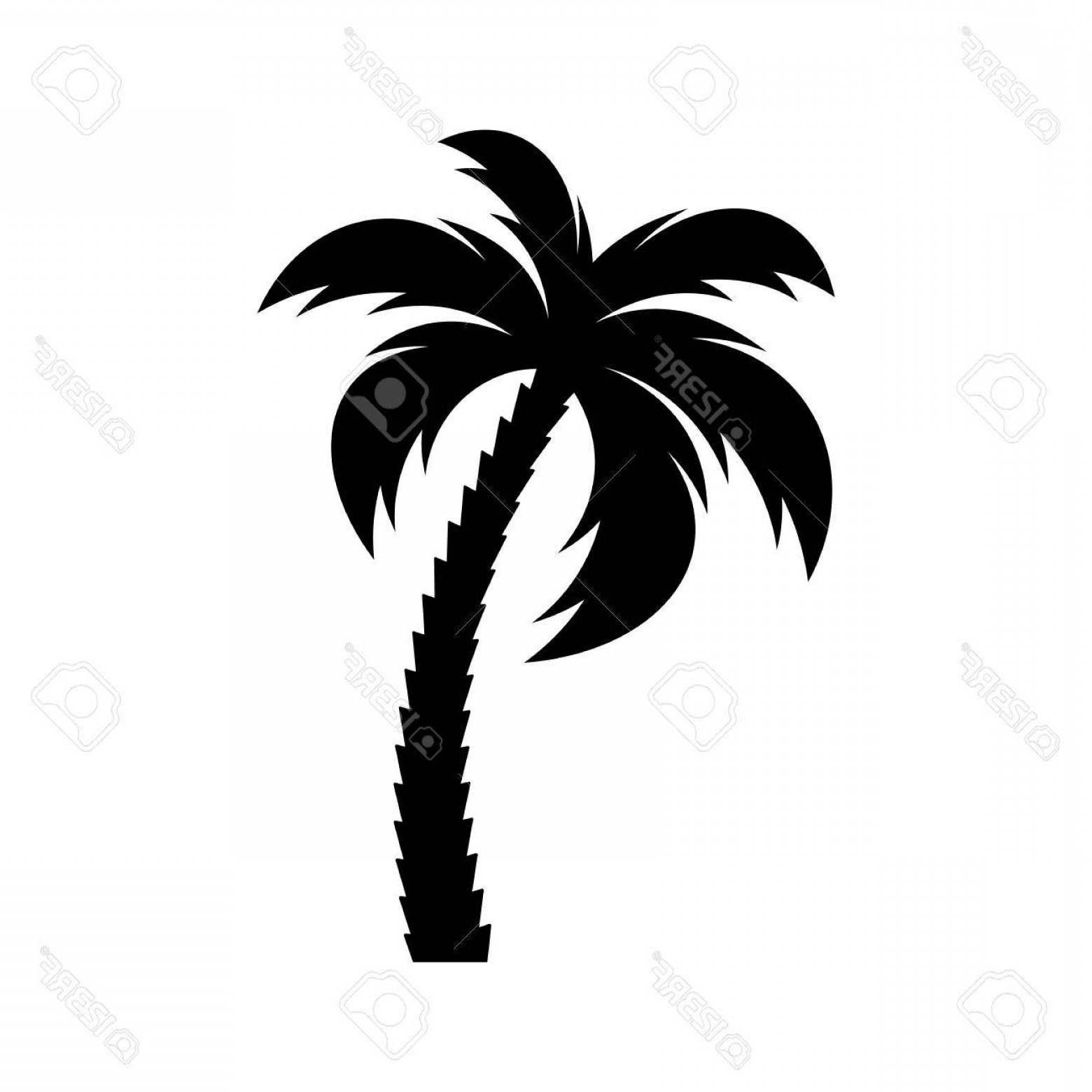 RIVIERA RAMBLERS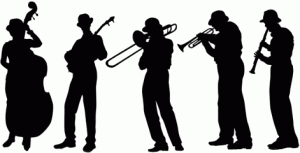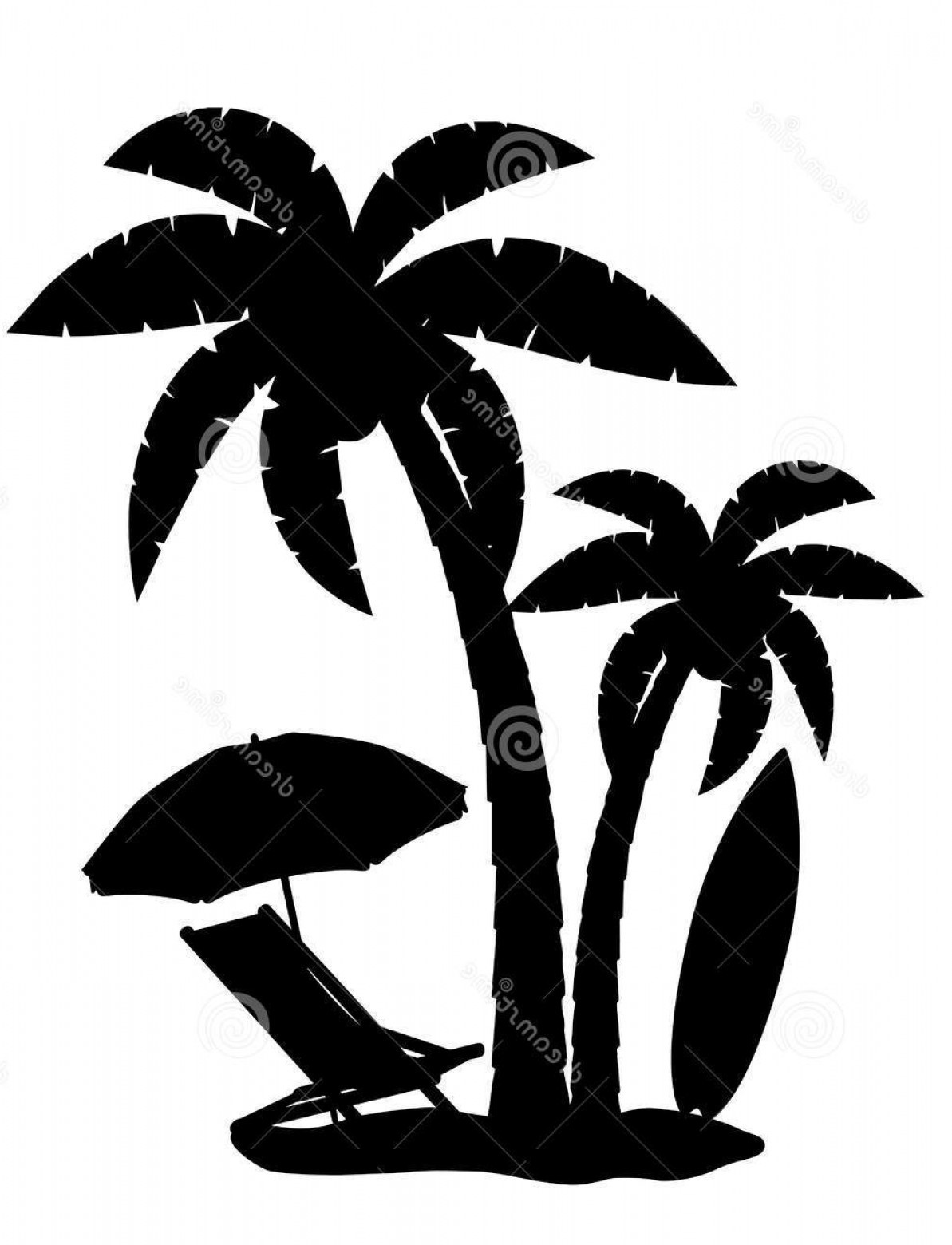 - a sweet, hot and swinging five or six piece with a "Manouche" flavour - a "fun-size" swing band to put a beat in your feet and a smile on your face!
We're not "telephone bands" or "pick-up groups" - quite the reverse - we are two busy and well organised and professional bands with our own very special repertoires. When you book one of my SELECT bands, with very few exceptions, you'll get the musicians featured on this website.
We are dedicated to the music we play, and with many years of experience and a professional attitude, I think we present some of the best, liveliest, freshest and swinging musical jazz that you can hear in the contemporary New Orleans, Dixieland and small band Swing styles.
We're based in the South West of England (Devon), but we can travel almost anywhere. I've carefully chosen combinations of musicians from the best there are in my part of the country, experienced and expressive musicians who play outstanding, interesting and musical jazz.
We have a large repertoire, and this enables me to create a performance programme to suit any occasion or location - from a small party or pub to a large festival, concert or promotion, even a funeral. Although Devon-based, every one of us has national reputation as a talented musician and fine professional performer and entertainer.
We're eager to share our music with you! Read on, call us, mail us and let's get together and make the good times roll!
WE ALSO HAVE SEVERAL EXCELLENT CDs TO ENJOY
You can buy these at our sessions - or send for them post free
"THAT OLD GANG OF MINE" (Take a ferryboat down to New Orleans / In the good old summertime / Buddy Bolden's Blues / That old gang of mine / Twilight time / Downtown Second Line / Oh Peter! / Memphis Blues / Lou-easy-an-i-a / Everybody loves somebody sometime / Caldonia.)
A superb live recording by Peter Kings at the 2014 Bude Jazz Festival. (John Shillito, John Wurr, Bobby Fox, Simon Banks, Derek Maughan, and Pete Furnish. PKCD394 Price only £10.00 Post free!
"RELAX" (Too Late / Memphis Blues / South Rampart Street Parade / That same old love / Look what you've missed / Savoy Blues / We'll meet again / St Thomas / Davenport Blues / I'll fly away / Darkness on the Delta / Perdido Street Blues / Second line / Laissez les bons temps rouler / Si tu vois ma mere / Relax / Caldonia / On a little bamboo bridge)
A great selection, recorded in November 2013 (John Shillito, John Wurr, Bobby Fox, Simon Banks, Derek Maughan, Bob Jarvis, Eddie Edwards and John Whitlock) RSCD950 Price only £10.00 Post free!
There are a few copies remaining of our popular double album
"FRIDAY NIGHT IN NEW ORLEANS"
2 CD set of an entire performance - recorded live by Peter Kings at KESWICK JAZZ FESTIVAL.
DISC 1. Friday Night in New Orleans / Joe Louis Stomp / Sentimental Journey / Clarinet Marmalade / Chicken ain't nothin' but a bird / Saturday Night Function / Choo Choo Ch'boogie / Nobody knows the trouble I see / You've gotta see Baby tonight / Drop me off in New Orleans
DISC 2. Poor Butterfly / Dans les Rues d'Antibes / Helter Skelter / I laughed at love / A lovely way to spend an evening / Is it true what they say about Dixie? / Buona Sera / He'll understand and say Well Done / Laissez les bon temps rouler! / Do you know what it means to miss New Orleans? / Mardi Gras in New Orleans.
(John Shillito, John Wurr, Bobby Fox, John Whitlock, Derek Maughan and Bob Jarvis) PKCD342 Price only £15.00 Post free!
TAKE A LOOK AT OUR SPLENDID DVD
Recorded live at Southampton's famous Concorde Club in September 2013, this is a superbly produced DVD by Rodney Hearth of Heaven Sent Productions. Using multiple cameras and his professional editing skills Rodney has produced a TV show quality film of both sets of the evening's performance.
The featured tunes are: (FIRST SET) Darkness on the Delta / In the good old Summertime / Creole Love Call / That's my home / Honky Tonk Train Blues / Davenport Blues / St Thomas / Caldonia and (SECOND SET) South Rampart Street Parade / That same old love / Savoy Blues / Laissez les bons temps rouler / Stardust / Memphis Blues / Go to New Orleans / Do you know what it means to miss New Orleans? / Your last chance to dance / When the Saints go marching in / Goodnight my lucky day.
The musicians are John Shillito, John Wurr, Bobby Fox, Simon Banks, Derek Maughan and Bob Jarvis. Price only £10.00 Post free!
Please send cheques, payable to John Shillito, to 2, Ashmoor Cottages, Eastern Road, Ashburton, Devon TQ13 7AP.
*
I ALSO HOST JAZZ HOLIDAYS
We have a couple of our own each year, at the Yarn Market Hotel in Dunster, Somerset, on the edge of Exmoor and the coast, near Minehead. One is in the Summer - in July, and the other is over the Old Year / New Year Holiday period. They're both great 3 day jazz house parties in a friendly, family-run hotel with the John Shillito Band.
And, every September we organise a weekend of jazz with one of my own bands and several others at St Audries Bay Holiday Village at West Quantoxhead, Somerset. This is another lovely setting, right on the cliffs of the Somerset coastline, with accommodation in well appointed, comfortable chalets and caravans overlooking the sea.
For the last few years I've also been working as a Host on JAZZ HOLIDAYS promoted by SAGA, the well known company that specialises in popular holidays for those of us who've reached a certain age! SAGA run all sorts of "special interest" holidays. Quite a few of them involve music and I'm glad that they've recognised the appeal that jazz will have to many of their potential customers.
PLEASE CLICK ON THE HOLIDAYS PAGE

*

For John Shillito information
email enquiries@johnshillito.co.uk
or phone 01364 653736 or 07977577321
JOHN SHILLITO trumpet and bands for any occasion. Serious jazz with a smile on its face!